IMUNA, a United States 501(c)(3) not-for-profit organization formally associated with the United Nations Department of Global Communications, is dedicated to promoting global issues education through simulation. Since 1975, IMUNA's premier education-based conferences and events have impacted nearly 200,000 students in cities around the world. IMUNA conferences teach students to cultivate excellent communication and decision making skills by leveraging the power of compromise, consensus, and cooperation for effective negotiations.
By leveraging its unique philosophy and human resources, IMUNA serves as the vanguard in providing engaging and transformative learning opportunities that empower young learners with the skills to be responsible global citizens. IMUNA holds itself to the highest standard for educational programming that builds upon students' classroom skills by providing them with the means and confidence to be effective agents for global change.
The organization actively builds and supports a network of international practitioners and organizations in a community of excellence, utilizing expert resources to identify new improvements and innovations in global issues education; expands and diversifies its community and diminishes barriers to participation in IMUNA programming; and integrates emotional and social intelligence with interdisciplinary academic skill-sets to develop empathy, critical thinking, and cross-cultural understanding.
IMUNA's volunteer staff members publish research papers, curriculum guides, training and self-study resources, and educational material on a platform accessible to learners across the globe. IMUNA supports the next generation of globally-minded leaders by facilitating cross-cultural debate and exchange programs, equipping learners with the academic and social skills necessary to solve some of the world's most pressing international issues. IMUNA seeks to promote global citizenship though global issues education.
While we support numerous educational endeavors and have assembled the world's leading MUN archive for students and educators, the heart of our organization rests in our Model UN simulations and the delegates we serve. IMUNA partners with international and regional organizations that promote education and international dialogue, as well as with universities and collegiate educational programs. IMUNA is committed to serving as a leader to the high school MUN community, providing resources to schools and organizations running MUN clubs or conferences, as well as providing support to these schools and organizations as they host local conferences and events around the world.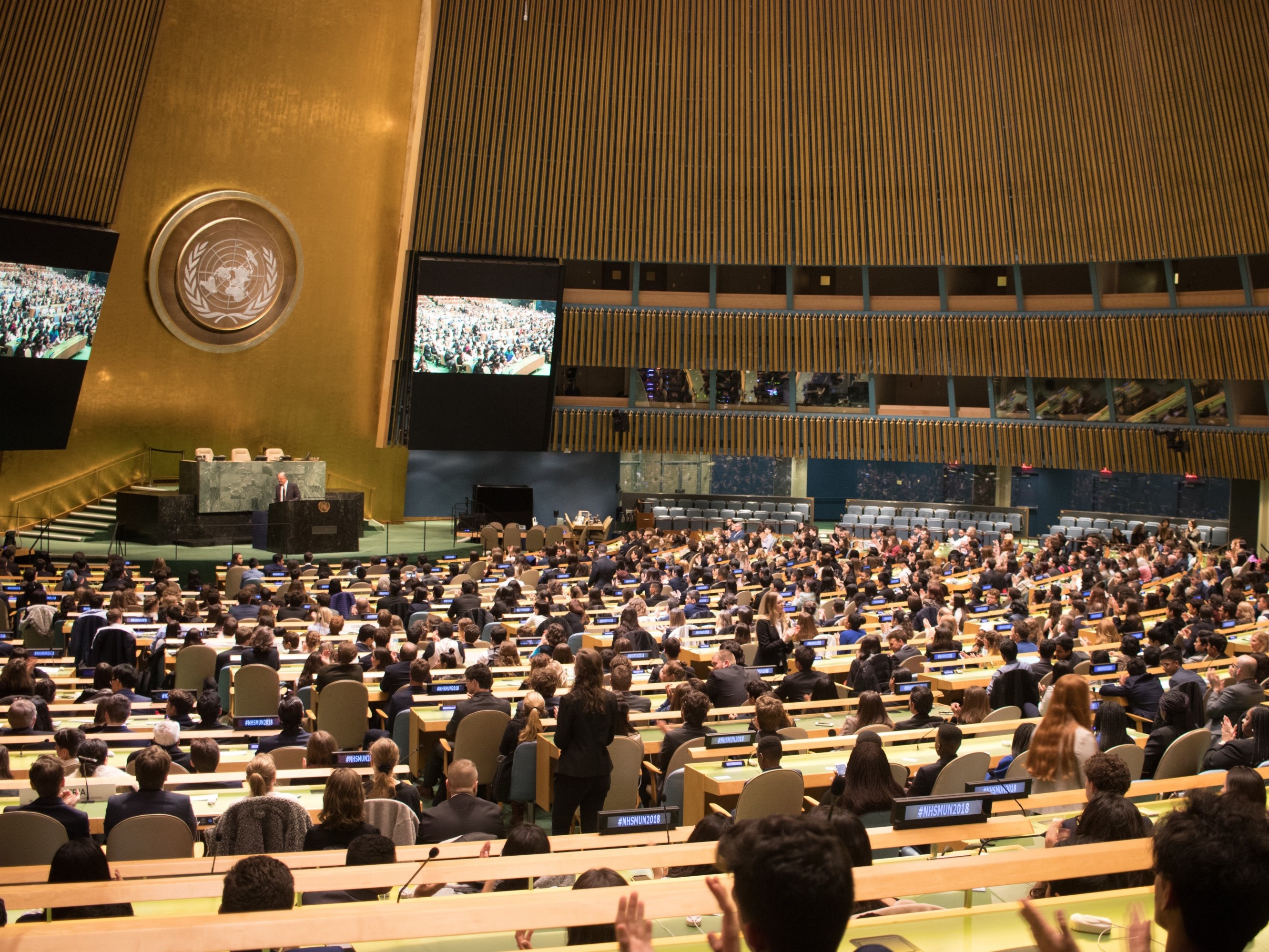 Following the second World War, representatives from 26 states met in San Francisco, USA on 24 October 1945 to form the United Nations (UN). Unlike its predecessor, the League of Nations, the goal of the UN was to create a truly intergovernmental organization capable of to promote international co-operation and empower a global organization capable of prevent another massive world-wide conflict. Initially, the UN had only 51 members, though with the rising decolonization of former European colonies and territories in Africa and Asia, the UN grew to include 193 recognized sovereign states.
Deciding that busy college students were clearly unproductive and needed something academic and practical to occupy their free time, the National Collegiate Conference Association was founded in order to advance understanding of the United Nations System and contemporary global issues through quality educational programs that emphasize collaboration and cooperative conflict resolution and prepare participants for active global citizenship.
Despite loving the college MUN circuit, our founders thought that global issues education shouldn't just be for university students with an unhealthy interest in global affairs. In 1974, a group split off from NMUN in order to focus more on educating high school students on the importance of global issues, public speaking, problem solving and parliamentary procedure in a comprehensive education. A few months later, our founders held the first National High School Model United Nations (NHSMUN) conference in spring of 1975.
NHSMUN 1975 was a hit. So much of a hit that within 4 years, running such a large and successful conference became a serious issues for a group of scrappy university students. A group of them decided that an oversight board of experienced MUNers would be able to better manage a group that was ambitious to expand and spread MUN education across the US. And so, International Model United Nations Association (IMUNA) was born.
Given the growth in NHSMUN and the fervor over the the sleepy capital of Utah, Salt Lake City, hosting the 2002 Winter Olympics, the IMUNA board began investigating the expansion of the organization to include both a national conference in New York City and a smaller regional conference. With long-standing ties to schools and staffers in the intermountain west, the board settled on Salt Lake City, Utah for the first experimental regional conference.
After looking around the US, a group of former NHSMUN staff proposed expanding into the South by hosting a conference in Atlanta, Georgia. Building on the longstanding ties between schools in the area and NHSMUN, the SUSMUN conference was started at Emory University in Fall 2009.
Despite running RHSMUN in Salt Lake City for over a decade, IMUNA decided that it was time to investigate other options for reaching a wider audience for a regional conference. After investigating options across the US and Canada, the board felt that a return to the birthplace of the United Nations was a good move, and settled upon San Francisco for the relocation of the conference.